Are the products on your website organic?
Yes, all of our products are made of 100% organic cotton that is G.O.T.S certified.
Royal Baby Collection layettes are:
Clothing made from 100% organic cotton soft and breathable fabrics, help baby sleep better and longer
Innovative, practical designs, which prevent hip dysplasia
Our values reflect our love for the planet, and drive to protect the next generation.
How would you describe the fit of your garments?
The baby's legs should not be tightly wrapped straight down and pressed together. Swaddling infants with the hips and knees in an extended position may increase the risk of hip dysplasia and dislocation. This is why compare to standard baby footies,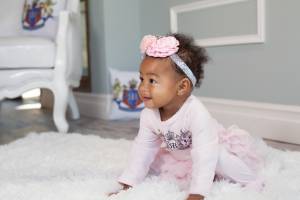 all Royal Baby Collection products provides loose around the hip and legs, allowing baby easily bend up and out at the hips.
Are YKK snaps nickel free ?
WE CARE ABOUT THINGS THAT REALLY MATTER: therefore, all our products are made from GOTS certified Organic cotton. Designed with a nickel-free YKK snap closure. Made without synthetic pesticides or fertilizers, our organic cotton clothing is pure and made without harsh chemicals, feeling incredibly comfortable and cozy on baby's skin. Organic cotton is the best fabric for baby's soft, sensitive new skin. organic cotton clothing will last longer and stay softer with every wash.
Package looks so fantastic, what is a standard packaging ?
Our gift sets are coming in silver custom made box, including footie and hat inside.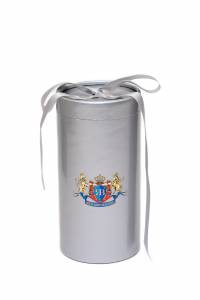 All our products are coming with cute small envelope which has inside gift card with designer note.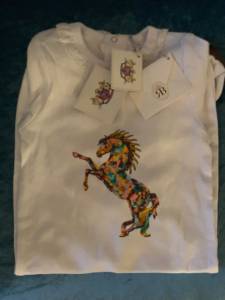 What it is Snap and Dream ?
Snap and Dream it is a swaddle transition sleeping bag with removable sleeve.
Snap Off sleeve helping baby transition from being swaddled
"hip-healthy" product by the International Hip Dysplasia Institute
It is design with parents in mind
Better sleep time for all family
We help to deliver a better night's sleep to your family. Because we understand just how important sleep really is.
Are Royal Baby Collection clothes for everyday use ?
Yes absolutely,
Royal Baby Collection a chic alternative to the standard baby pajamas, made according to International Hip Dysplasia Institute guideline:
Created exclusively for Royal Baby Collection Sleep N Play Pajama come with whimsical drawings of animals, embroidery crest, and elegant frill and ruffle which will add a sense of chick to baby pajama.
This essential will get plenty of wear; perfect for nap time and playtime. Baby will love wiggling around in this footed coverall, which is made according to international hip dysplasia institute guideline.
What sizes do you have ?
Sizing runs very true to weight; intended to be worn loose on hips.
0-3m (7-12 lbs.)
3-6m (12-16 lbs.)
6-9m (16-19 lbs.)
9-12m (19-22 lbs.)
Machine Washable: Cold water, Tumble Low
Order Status FAQ
Can I track my order online?
You may track order by accessing your online account and viewing the order status and tracking information in the order history details. Also, once your order has shipped, a Shipping Confirmation email is sent to you with the name of the carrier and the tracking number. In some cases when the order is shipped directly from the manufacturer, the tracking number can be not provided.
How long will it take for my order to arrive?
Order arrival timelines are dependent upon the product(s) and inventory status. Estimated arrival time is calculated for each item in checkout. For most cases, it is 2-4 days for processing and 7-10 business days for delivery.
Total Delivery Timeline for Alaska and Hawaii orders may take 2-5 additional business days. Total Delivery Timeline for orders shipped from manufacturer orders may take 4-6 additional business days.
In rare instances, when an item in-stock becomes unavailable after you have placed an order, you will be notified of the status of that order via email.
How can I review the details of an order I have already placed?
Registered users can log into their account and view the order history and details of any order they have placed online.
What is a back order and preorder?
When a product is labeled as back ordered, this means that there is currently none available in stock to ship to the customer immediately. You may still place the order for the item and as soon as the item becomes available, one will be shipped to you.
Did you receive my order?
When an order is placed on royalequestriancollection.com, an order confirmation email is sent within 24-48 hours of the time you placed your order.
Can I make changes to my order?
Yes, anytime prior to your order being processed and shipped, you can make changes to your order (which is up till +/- 8h after placing the order). If your order has been processed, you can't make any changes. For processed and shipped orders you can find more guidance in our Returns section to process a return or exchange.
How can I cancel my order?
Our order-fulfillment and shipping systems are designed to deliver orders quickly and efficiently. royalequestriancollection.com customer's orders are sent to our warehouses frequently throughout the day for quick fulfillment and shipping. Therefore, it is not possible to change or cancel an order once it has been processed.
BUY ONLINE, PICK UP IN STORE
What are the features and benefits of ordering items online and then picking up my order(s) at a Royal Equestrian store?
The Royal Baby Collection Pick Up In Store option provides you with the convenience of placing an order on royalequestriancollection.com and subsequently picking up your order at a Royal Equestrian store location. If you are unable to pick up an order yourself, you may also pre-authorize someone to pick up your order for you.
Why do I need to provide my phone number when placing an order online?
If for some reason there is an issue with a specific store's inventory, a store associate may need to reach you directly to provide additional information in regards to your order.
How will I know my order is ready for pick up?
When your order is ready for pickup, you will receive a Pick Up In Store Notification email, which will
What do I need to bring to the store to pick up my order(s)?
For easy order pickup, please bring the following with you to the store:
–    A government-issued photo ID
–    Your order number or the Pick Up In Store Notification Email
Is the Buy Online Pick Up In Store option available at my local Royal Equestrian store?
Buy Online Pick Up In Store is available at Royal Equestrian store location:
360 Via Las Brisas # 140
Newbury Park, Ca 91320
Can I purchase/order an item(s) on royalequestriancollection.com to give as a gift to someone else?
Yes, you have the ability to order item(s) online as a gift for someone else. Simply enter the recipient's name and address after you've entered your payment information. You will then receive the Order Confirmation Notice, and the recipient will receive the information too.
Happy Shopping
Royal Baby Collection Customer Care
Are all footie coming with FOLD-OVER GLOVED CUFFS SLEEVES ?
Yes all our footie are coming with FOLD-OVER GLOVED CUFFS SLEEVES.
Designed with reversible mittens, the coverall sleeves feature cuffs that can be flipped over to keep the baby's hands warm or preventing them from scratching themselves. (available in sizes 0-3, 3-6 month.)
I seen RB griper on the footie, it looks very custom, what it is for ?
RUBBER RB DOT GRIPPER SOLES
Prevent slipping when learning to stand and taking first steps
Are you shipping worldwide ?
Yes , we are shipping all around the globe.
Section
Thrilled with the quality and equestrian design on these darling ones! The horse has a metallic bit through which gives it an extra special custom feel. Design almost seems hand painted.???
This is a very well made and designed outfit, made with the softest high-quality cotton for a comfortable feel. The outfit and matching hat fit perfectly. This is by far the best value for money.
I purchased the white Forever Me footie from you for a special occasion for my lovely daughter. On the day my daughter wore it she looked like an angel. Thank you so much for helping us to make her day so special.
It is my favorite place to shop for children's clothes because I know that I can always find unique, fashionable, and affordable clothing for my children. There are always many varieties of clothing from which to choose. All Organic cotton made.
I would like to thank you for the great service and quick shipping I received whilst shopping, the staff were extremely helpful and pleasant and I will definitely be recommending you to my friends.